A Benefit for LifeManagement Center
GREAT FOOD • OPEN BAR • SILENT/LIVE AUCTION • DJ & DANCING • NASCAR Simulator
Reinvented: We're bringing it inside! Guests will have the chance to race in a full-sized NASCAR simulator.
Party Tickets: $40/ person Simulator Tickets: $35/ driver (limited availability)
All proceeds from this event will be used to support the scholarship and educational programs of LifeManagement Center. For more information, contact roadrally@lifemanagement.org
Drive the Full Motion NASCAR Simulator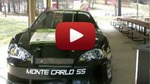 Climb into a real, decommissioned NASCAR vehicle converted into a full motion simulator  for the ride of a lifetime. Experience the turns, bumps, and crashes of a NASCAR track.